JJM2677 – Embankment Stabilisation for Adoptable Road
| | |
| --- | --- |
| Project | JJM2677 – Embankment Stabilisation for Adoptable Road |
| Location | Trodds Green Stevenage |
| Client | Buxted Construction (Taylor Wimpey Homes) |
| Key works delivered | Soil Modification |
| Project Duration | March 2022 - 4 weeks |
| Stabilised Area | 5000 m2 |
| Earthworks | By Buxted Construction |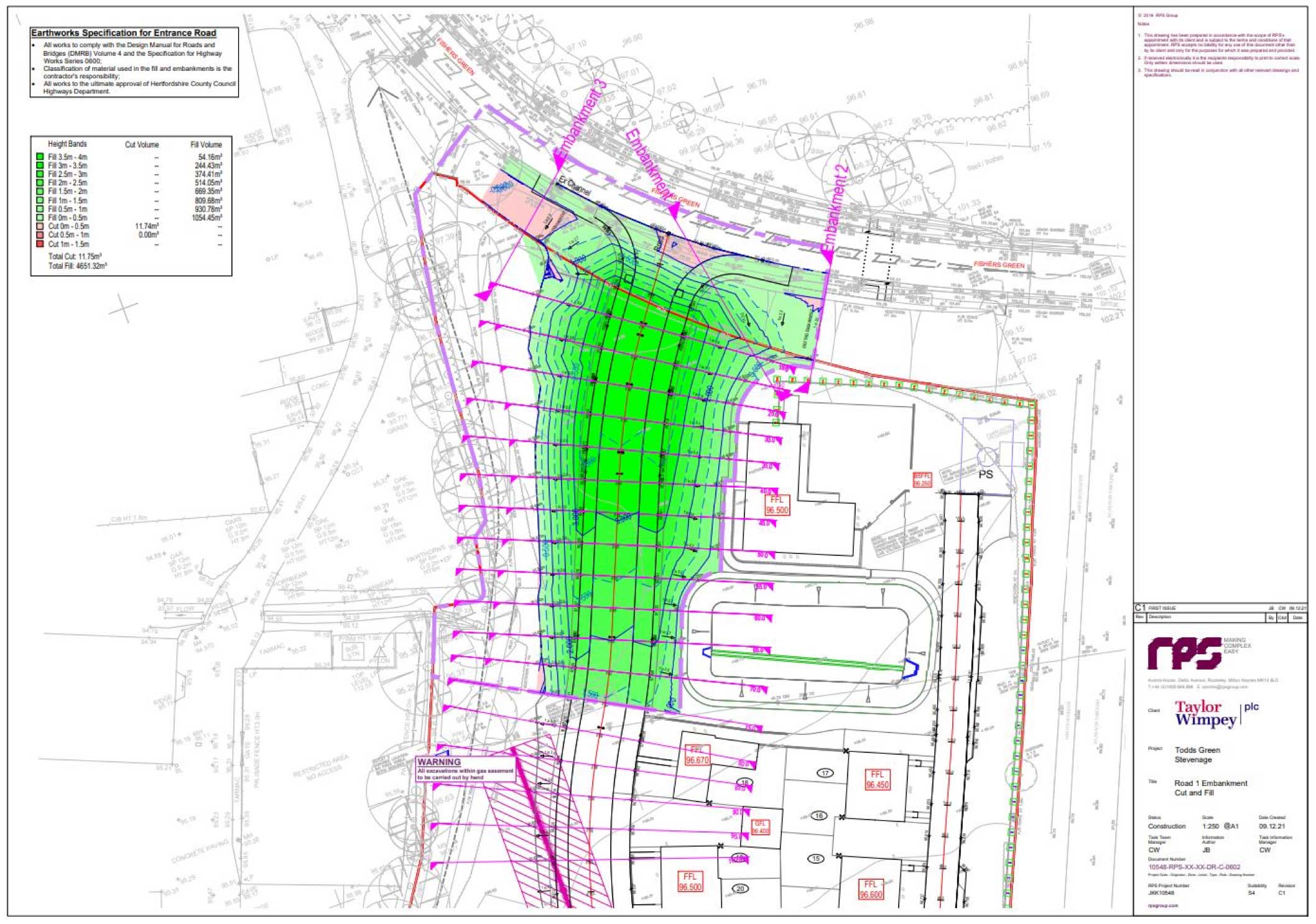 PROJECT OVERVIEW
S278 Adoptable Roadway Embankment with Site won 7A Sub Soil.
Embankment slope was not less than 1:3 therefore Shear was not a concern for the construction of the embankment.
5000m3 of 7A material excavated from nearby Attenuation Pond which was modified with Lime to create the embankment.
Hertfordshire Highways required 100% Compaction and 30% CBR.
JJMac tested and classified the material as suitable to achieve these requirements.
PROJECT CHALLENGES
The project was very challenging due to the proximity of the site access road and surrounding new builds.
Working on an embankment with large machinery required high levels of planning and safety measures in place such as Overbuild of the embankment to allow the equipment to stay min 1.0m from the edge of the embankment.
The soil had to be mixed with the Lime and allowed to Mellow (Flocculation) for min 4 hrs and then re-mixed prior to trimming and compaction.
Material is to be laid in accordance MCHW1 Clause 608 (Table 6/1) and Clause 616 and compacted in accordance clause 612 and Table 6/4. The method of compaction for Class 7A material is an "End Product" requirement. This requires 100% of maximum dry density of BS 1377 : Part 4 (2.5kg rammer method) or a dry density corresponding to 5% air voids at field mc, whichever is lower.
ENGINEERING AND SOLUTIONS TO OVERCOME THE CHALLENGES
To overcome the project challenges set by the client, our team:
Worked with the client and advised on the findings of the site won material testing and classification.
The challenge was to modify the excavated material by mixing with lime and complying with the stringent testing schedule for the 7A material.
Our site team set to work. Taking delivery of the 7A material and using our GPS intelligent dozer to place in 300mm layers for mixing in-situ.
Each layer was replicated as the embankment was created.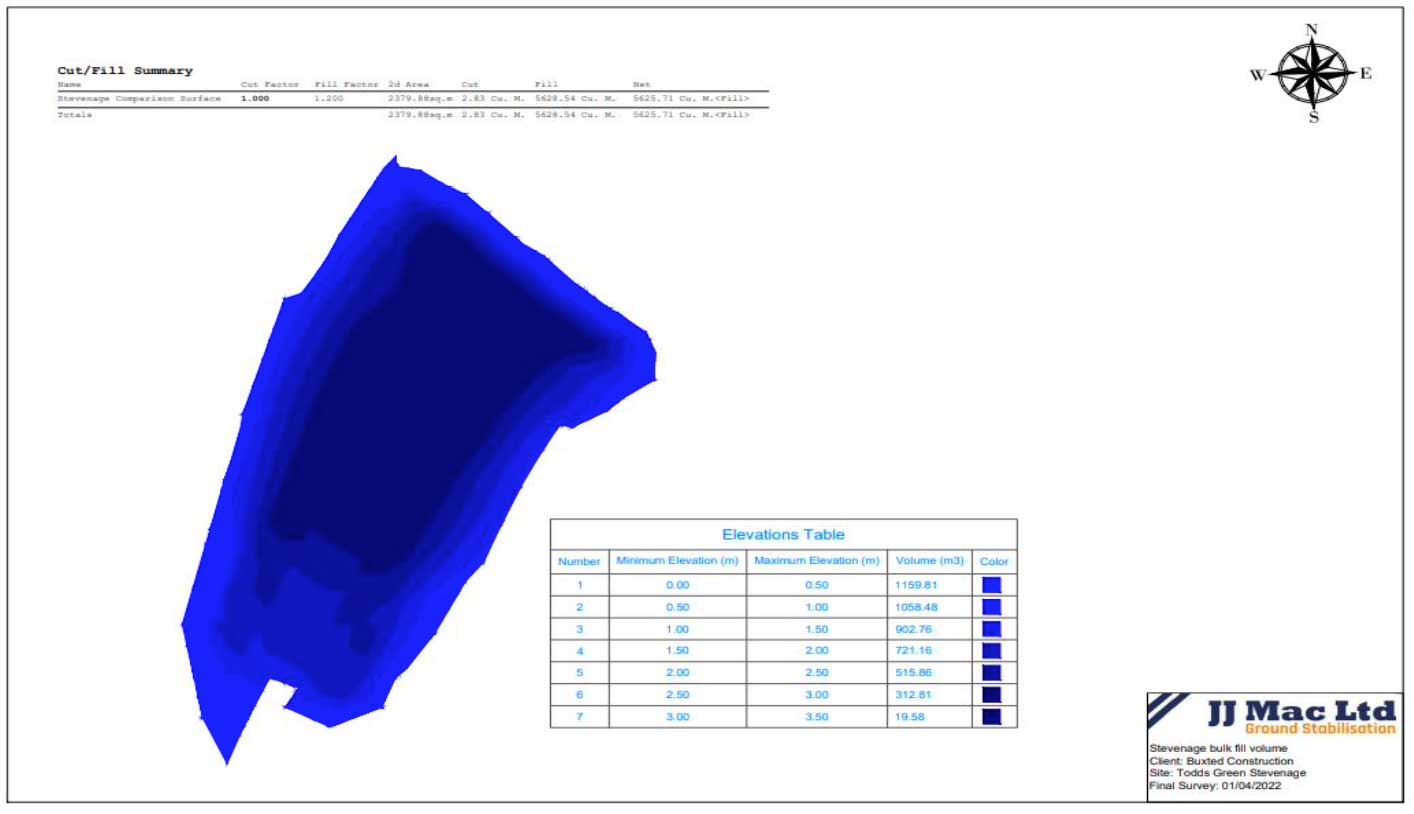 STABILISATION DURING CONSTRUCTION PHASE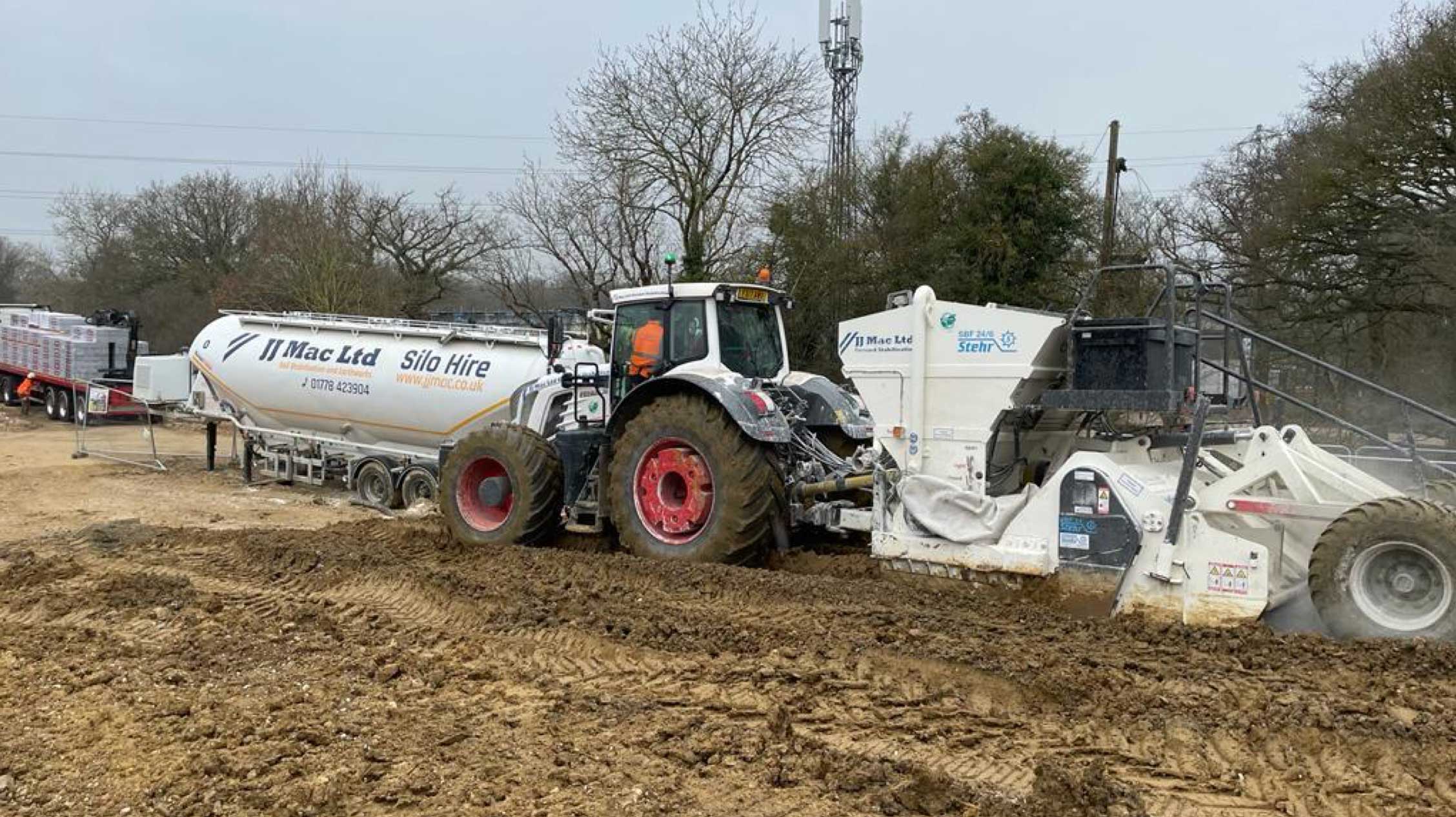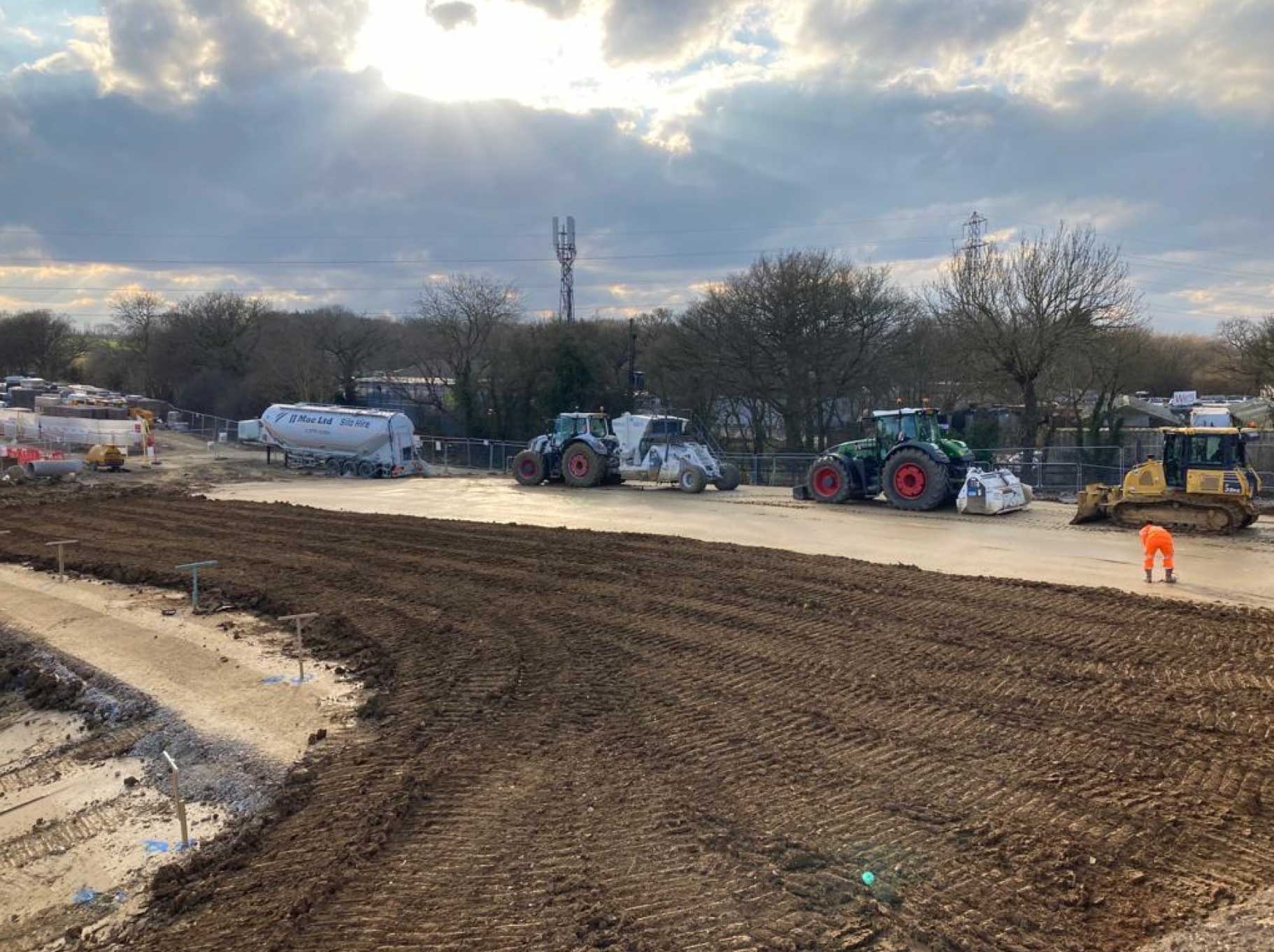 COMPLETED WORKS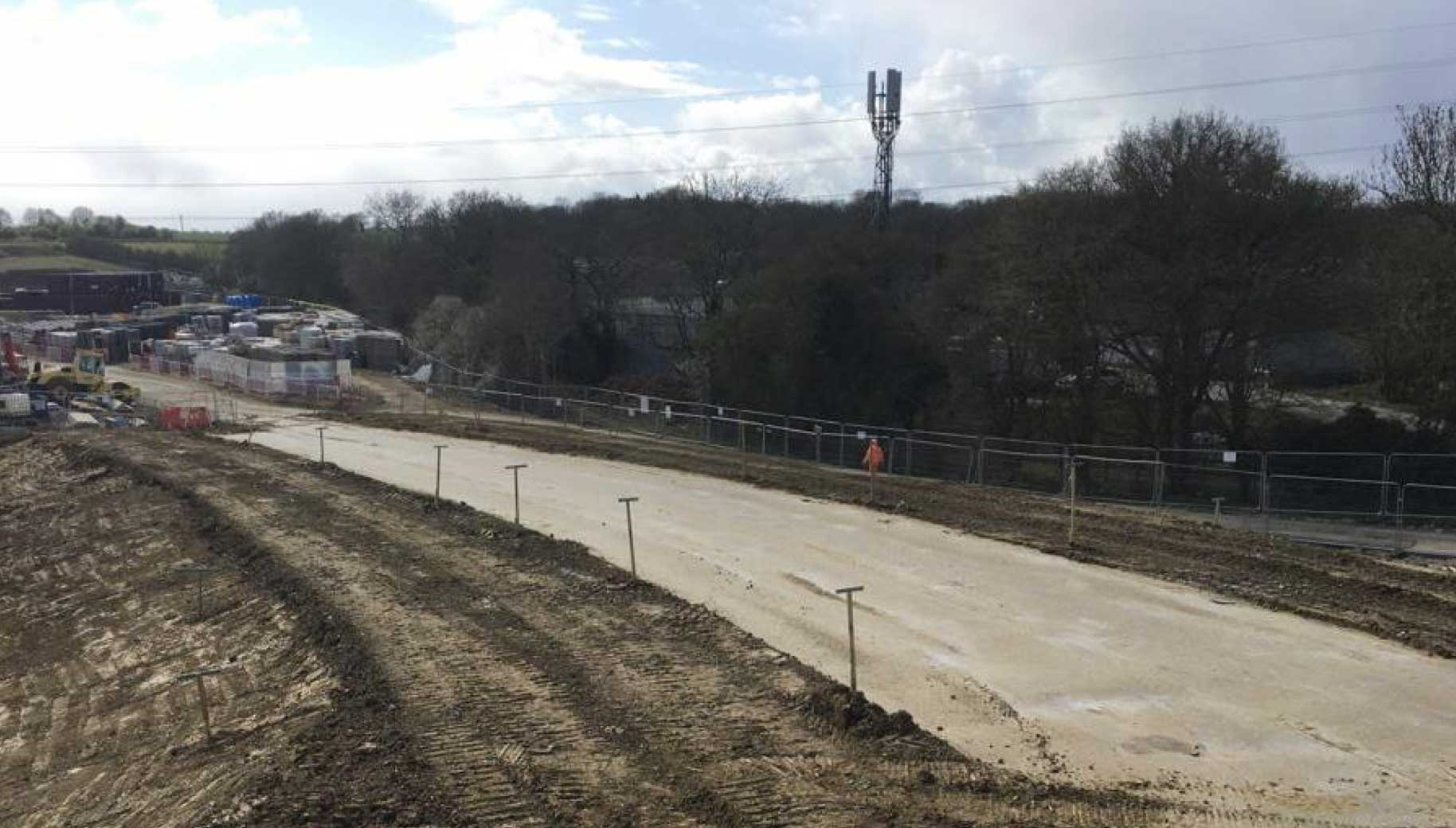 ADVANTAGES
The works had numerous advantages to this site.
Utilise site won material from Excavations for Modification.
Elimination of Primary Aggregates for making up levels.
Elimination of Primary Aggregates and Lorries from the surrounding Roads.
BENEFITS TO CLIENT
JMac are experts in Soil and Ground Stabilisation using lime, cement and other binder materials. Ground Stabilisation geotechnically enhances waterlogged or weaker soils and allows for greater weight bearing for construction materials. JJMac can provide an exceptionally cost-effective construction method for improving the weight bearing properties of any soil found on site and at a competitive rate.
Cost Saving
Programme Reduction
Vehicle Movements Reduction
Imported Aggregate Reduction
Material Sent To Landfill Reduced By
Stone Layer Depth Reduction